Change Starts Now
The Guelph Black Heritage Society (GBHS) is a community cultural and spiritual gathering space, providing resources and services to empower the community to connect to our Black history, present & future. A team of Univeristy of Guelph students had the opportunity to work with the GBHS. Below, one of the students from this team, Kamrani Doray, provided us with a blog post on the project and its importance to the community.
The Guelph Black Heritage Society (GBHS) has a vision for Guelph, and all of Canada's future --- to promote and raise awareness for Guelph's Black heritage and to address and tackle important and urgent social issues pertaining to Black Canadian communities. I have been fortunate enough to work with this incredible community organization, through the making of a brochure and other educational resources. As someone who continues to endure injustices and discrimination because of my race, this project demanded strength and bravery. And while often challenging, I have cherished my time working with GBHS, coming away from it knowing I, along with my other team members, was able to create lasting change for BIPOC individuals like myself, through community action.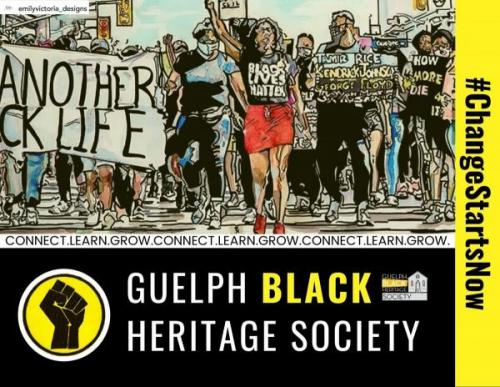 For this organization, my team and I created a brochure, outlining ways in which the people of Guelph can commit and contribute to advocating for racial equality within the community.  We used this brochure to promote and advertise to community members about GBHS and its purpose, history, and programs. And with this brochure came our core message- "It is crucial to raise awareness about the rich history of Black heritage in Guelph". Reflecting on this message, we felt we had to do more. So, we created a postcard that focused on the initiatives of the ChangeStartsNow educational campaign, which emphasizes why now, more than ever, we need resources teaching about anti-racism, diversity, and discrimination that BIPOC individuals face daily. At this point, my team and I's passion was evident- and knew that we could further put our skills and resources to use by creating children's worksheets (ie. colouring pages, word searches, etc.) to better engage the youngest of our community. I felt that this was the most crucial part of my time working with GBHS. It is of utmost importance that education surrounding racial inequality begins at a young age, to create the kinds of communities we wish to build in the future. This is a major issue in the society we live in, where we are not actively teaching children the truth and accurate history of race and discrimination happening right within their own community. This needs to be made a priority both in the classroom and at home, and I believe my team's efforts are a vital part of this change in Guelph. 
More than anything, advocating for racial equality requires community action and engagement, and working with GBHS reminded me of this. As a Black individual, racial inequality impacts my life every day and will continue to do so unless we embrace regular practices of community organizing and participation and strive for empathy towards racial issues within our own community. Lack of knowledge and involvement in these social issues is one of the root causes of racism and discrimination against the BIPOC community. Creating opportunities for engagement within Guelph will allow us to begin to combat racism towards BIPOC residents and can then be applied to broader social injustices in Canada. 
My role in aiding the Guelph Black Heritage Society with community outreach has allowed me to better understand the importance of not only acknowledging, but celebrating Black heritage and culture within Guelph so that the stigma and ignorance many individuals experience can end. In my future endeavors, the personal growth I experienced with this project will greatly influence my involvement in other social justice organizations. Not only will I push others in my life to strive for equality and engagement in community organizations, but I will use these transferable skills I have developed to be a more active citizen in the fight for racial equality. We can no longer stand by and allow these injustices to occur in a country so proud of being multicultural. To celebrate Canada means to celebrate all cultures and provide equal rights and opportunities to these citizens without discrimination. And I am committed to implementing these practices into my daily life. 
I hope my community will join me.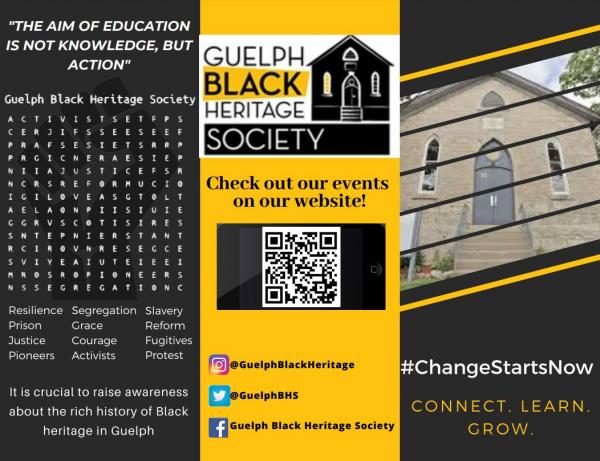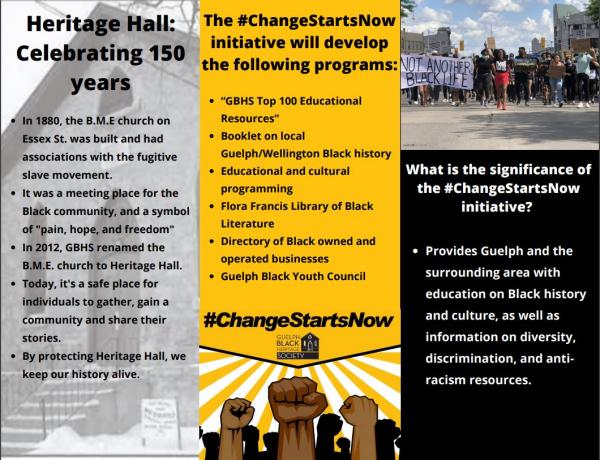 ~ Post written by Kamrani Doray, Undergraduate arts and sciences student, specializing in neuroscience and psychology.