A Call to Put Well-Being First in COVID Recovery
As the world around us continues to grapple with the COVID-19 pandemic, we find ourselves in a middle place between the optimism that comes with vaccine rollout in our community and deep sorrow for the ongoing trauma many are facing in India and elsewhere. If you are looking for ways to help, here is a list of suggestions from Maclean's. 
We also want to join with others in naming the emotional and physical exhaustion that many of us are experiencing. The ongoing emergency situation has affected every aspect of our lives, and while the pandemic's impacts have been unequal in many respects, no one has been untouched by the crisis. For many, the ongoing nature of the pandemic has intensified rather than dissipated daily struggles. Not everyone is okay right now.  
One of the values of the Centre is to support the wellbeing of our members, and with this in mind, we call on our communities and each other to make space for people to grieve, rest, and recover. We also call on our communities to resist a return to "normal" that ignores the systemic inequalities that have long been embedded in education, on our campus, and in society. We must also resist unrealistic work demands that require sacrificing the health and wellbeing of ourselves and our families.  
We need to take care of each other. Let's start by reflecting on--and resetting--the structures and practices that guide our work and our expectations of one another.  
Dr. Deborah Stienstra 
Director, Live Work Well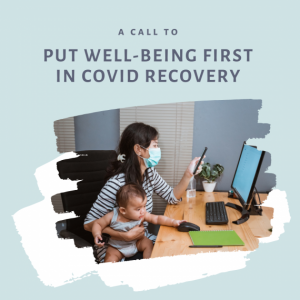 Additional Voices & Resources
10 Ideas for a Community-Based COVID-19 Recovery
Hitting the reset button: Stanford Psychologist Says We Can Build a Better Normal After the Pandemic
COVID-19 and Mental Health
4 Ways to Fill the Need to Socialize During the COVID-19 Pandemic