Land Acknowledgements Part Two: Can We Celebrate Canada Day Respectfully?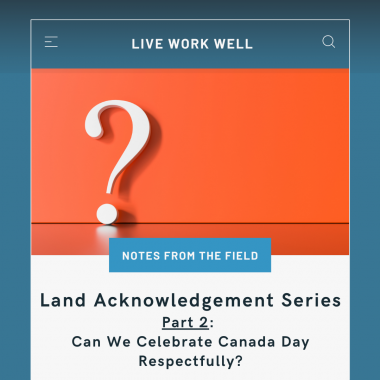 On June 21st Canada celebrates National Indigenous Peoples Day as a way to honour the heritage, customs and contributions of Indigenous people's native to these lands. However, fast forward 10 days and you will find a day dedicated to commemorating Canadian confederation and patriotism. Canada Day (July 1st) is a statutory holiday that is rooted in and often ignores the colonialization of the very peoples and cultures that were celebrated only 10 days prior.
Indigenous peoples, including First Nations, Inuit, and Métis, play a large role in Canadian history, and they resided on the lands now known as Canada long before European settlers arrived. The reality is that Canada was built on land that was not formally relinquished by its original inhabitants. By acknowledging this truth in day-to-day practices, non-Indigenous people acknowledge historic wrongs that continue to have lasting impacts on the present-day.
But what about the Indigenous people whose land was taken, how have their lives been shaped by these long-term injustices, and where do they reside?
Compared to the non-Indigenous population, Indigenous peoples living in Canada have shorter life expectancies, lower incomes, lower education levels, lower employment rates, and many suffer from food insecurity.[1],[2],[3]
Furthermore, Indigenous people in Canada face many issues when it comes to access to justice. Indigenous people in Canada face significant overrepresentation in correctional facilities, making up 20% of the total inmate population, despite representing less than 5% of the Canadian population.[3] Meanwhile on the other side of the criminal justice system, Indigenous people are more likely than non-Indigenous Canadians to be victims of violent crime.[4]
In terms of population and place of residence, 2016 census data reported that Indigenous people in Canada account for 4.9% of the national population.[5] And since the 1960s, more and more Indigenous people have been moving off reserve to live in metropolitan areas.3 Ontario has the largest Indigenous population of any province, being home to 22.4% of the national Indigenous population. British Columbia is second to Ontario, accounting for 16.2%, followed by Alberta, with 15.5%.[6] Similar to the rest of Canada, the vast majority of Indigenous people in Ontario live off-reserve. In fact, roughly 60% of Indigenous peoples in the province live within metropolitan areas – Toronto and Ottawa reporting the highest numbers.[7]
The Indian Residential School System is a partial cause for Indigenous displacement across Canada. Between 1870 and 1996, 150,000 Indigenous children were forcibly removed from their families and relocated to residential schools that were often hundreds or thousands of kilometres from their homes.[8] As a result of this system, we still see many other lasting impacts and intergenerational traumas – even 30+ years after its abolishment in 1996.
Despite some governmental attempts at reconciliation, such as the 2015 Truth and Reconciliation Commission, Indigenous people in Canada still face enormous hardships as a result of systemic inequalities.
Recently, hundreds of children's remains have been found at the sites of former Indian Residential Schools, a grim reminder of the unspeakable tragedy caused by the residential school system and Canada's treatment of Indigenous people. In light of such news, many Canadians are now questioning their Canada Day celebrations. As such, Penticton and Victoria, British Columbia, as well as Wilmot Township, west of Kitchener, Ontario, recently cancelled their 2021 Canada Day celebrations,[9] "out of respect for the Indigenous community's grief at this time."[10]
Many in Canada are asking the same question: Is it appropriate to celebrate Canada Day in the wake of this tragedy? Is there a way to celebrate Canada Day while still being committed to reconciliation?
Some Canadians embrace the celebration of Canada Day because they are grateful for their life in this nation. Some find themselves in an uncomfortable position where they are grateful for their freedoms but recognize the Indigenous traumas and injustices that have allowed for such freedoms. Others refuse to celebrate and find any celebration connected to Canadian colonialization to be incompatible with processes of reconciliation.
For Canadian reporter and editor Maija Kappler, connecting Canada Day and the impact this has on Indigenous communities was not something she was educated about. "Like a lot of white people, I didn't grow up particularly aware of racism. We didn't learn much about colonialism at school. I knew there was Mohawk territory across the lake from the Montreal suburb where I watched those fireworks, but I didn't really know what that meant. I never thought about what it might feel like for the people living there, to see fireworks celebrating the establishment of a country that resulted in their genocide."[11]
A 2018 statement from federal NDP leader, Jagmeet Singh, hits at recognizing Canada's unjust treatment of Indigenous populations as a key part of a respectful Canada Day commemoration. "We cannot mark this day without a solemn and respectful acknowledgement of our history, if we are to truly move towards reconciliation and justice. On this Canada Day, let us celebrate the values we continuously aim to aspire to, while remembering the past and committing to working for a brighter future for all."[12]
Meanwhile, going into Canada 150 in 2017, social justice activist Doreen Nicoll told CBC why she refuses to celebrate Canada Day. "I need Canada to give me something to celebrate. I can't celebrate a sliding scale of who deserves services and who doesn't, who gets help and who doesn't ... It's very well that the government has apologized [for their treatment of Indigenous populations] but where's the action?"[13] 
Others shift discussion of Canada Day celebrations to conversations of better honoring Indigenous cultures. For example, Wade Grant, an intergovernmental officer with the Musqueam Indian Band, made the following statement in the National Post: "We have Canada Day parades, we have Canada Day celebrations downtown. On National Indigenous Day we don't have cities or municipalities holding parades or holding events where concerts are played to celebrate Indigenous people."[14] Grant went on to suggest that we need to introduce greater discussions about the lived experiences of different races in Canada before we are to begin celebrating.
What are your thoughts? Can Canada Day be celebrated while showing respect for the nation's Indigenous history?
Let us know your opinion by emailing us at liveworkwell@uoguelph.ca or by Tweeting us @Live_Work_Well.
~ The Live Work Well Research Centre respectfully acknowledges that our establishment at the University of Guelph resides on the treaty lands and territory of the Mississaugas of the Credit. We recognize the significance of the Dish with One Spoon Covenant and the lasting relationship Indigenous communities have with this land.
~ Post written by Kaitlyn Hunter, a MA Candidate at the University of Guelph and GRA for the Live Work Well Research Centre.
~ A special thank you to Emma Stelter for her contributions to the Land Acknowledgement blog series. Emma is a MA in History at the University of Guelph, and a devout and passionate asset to the 'All My Relations' research cluster within the Live Work Well Research Centre.
 
References: