My Summer 2021 Co-op Experience at the Live Work Well Research Centre
My Summer 2021 Co-op Experience at the Live Work Well Research Centre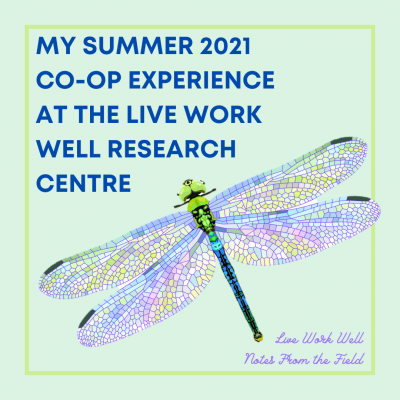 I am currently pursuing a BA in Psychology Co-op with a minor in Human Resources, as well as a minor in Family and Child Studies at the University of Guelph. After completing my undergraduate degree, I intend to pursue a MSc in Couple and Family Therapy. In this blog post, I will share my experience of working as an undergraduate research assistant at the Live Work Well (LWW) Research Centre. 
 
When applying for co-op positions during the Winter 2021 semester, I remember being excited about the possibility of getting a research assistant position because I had never done that kind of work before. I had always wondered what exactly a research position as an undergraduate student entailed, particularly because I am still exploring what interests me career-wise. As such, I was thrilled when I received an offer from the LWW Research Centre. 
 
At the Centre, my responsibilities included attending team meetings, managing the Centre's Twitter account, contributing to the LWW Newsletter, creating a new file management system, and assisting on various projects throughout the term. Through these different activities, I was able to improve many skills, both in my work life and personal life. For example, handling the Centre's Twitter account allowed me to improve my critical thinking skills by deciding what is worth tweeting about and what is not. Additionally, through working remotely, I was able to improve my time-management and organization skills because it was up to me to schedule my workday effectively while ensuring that my tasks are completed in a timely manner. 
 
If I had to choose one project that I particularly enjoyed working on, it would be the File Management Project. This project was daunting at first, but with the help of my supervisor, Kim Garwood, I was able to develop a plan, implement it, and see it come to life. This was a substantial project, and there were many times when I thought: 'This is so complicated, how am I going to do this?' But after seeing the new file structure come to life, I learned that no project is too big, although it may seem daunting at first. All it takes is a plan and a realistic set of goals. 
 
Another aspect of my position that I would like to highlight is the bi-weekly team meetings we would have. In the beginning, I did not really understand much that was discussed; but as time went by, my understanding grew, and I was able to contribute my thoughts and opinions on various topics. I really enjoy working independently, but having these meetings twice a week helped me learn the value of collaboration through connecting with my team members. 
 
Lastly, I want to highlight the culture at the LWW Research Centre. I would describe it as fun, challenging, friendly, supportive, positive, and motivating. This was definitely one of my favorite co-op experiences largely due to the people I worked with and the energy that they brought to work every day. I would not have had an incredible work term without the support of my superiors. Thank you to Deborah for sharing her knowledge and wisdom with me, and a huge thank you to Kim in particular for always bringing her positive energy to work, for always being there to support me, and for being a truly amazing leader. 
~ Written by Lutfiyah Jasat