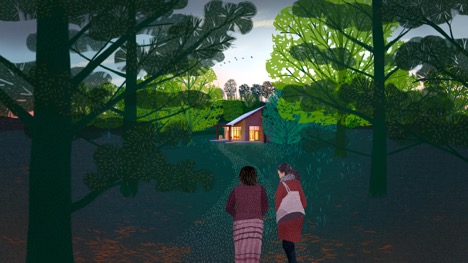 Introduction
"All My Relations," led by Kim Anderson, is the Indigenous ways of knowing cluster. Their work consists of Indigenous mentoring and networking and providing land-based learning and activities. "All My Relations" works to provide space on campus for Indigenous knowledges and practices, with projects that support the development of gardens and ceremonial spaces in the University Arboretum. Current research projects involve questions of food sovereignty, how to develop embodied Indigenous feminist practices through performance art, and work with Indigenous men and masculinities. 
Photo credits:
The beautiful images on this page are credited to the following talented folks:
Injichaag: My Soul in Story - University of Manitoba Press
Nokom's House rendering - Amina Lalor
Webinar photo - Tenille Campbell/Sweetmoon photography
Current and Future Projects:
Indigenous Mentorship Network Program
IMN-Ontario is a five-year health training program to provide Indigenous scholars and trainees with high quality mentorship, training, and opportunities to engage in Indigenous health and well-being research.The IMN hosts webinars to share knowledge, advice and best practices; networking events; opportunities for research and publications; and funding opportunities for Indigenous students. The IMN's overarching goal is to support and grow the next generation of Indigenous health scholars.
More information can be found at the Indigenous Mentorship Network Program website.
Wisahkotewinowak Garden Collective
The Wisahkotewinowak garden collective aims to grow sustainable and culturally relevant food for local urban Indigenous people in four garden spaces in Guelph and Kitchener-Waterloo.  Wisahkotewinowak takes a decolonizing approach to gardening by prioritizing Indigenous ways of knowing and relationship-based practices around land, food, and medicine. Most food options in urban settings are colonized systems based on colonial ideas of what should be consumed. Wisahkotewinowak provides an alternative, giving urban Indigenous people an opportunity to revitalize foods that have been colonized or lost. Having an urban garden is a key aspect as well, as it continues to challenge the Indigenous erasure we typically see in cities while helping people connect with the land. To learn more about the gardens, you can subscribe to our newsletter or browse the Wisahkotewinowak website. 
 
Cluster Leader:
Or contact us for more information.