Researchers:
Karen Korabik, , Professor Emerita, University of Guelph
Donna Lero, Professor Emerita, University of Guelph; Denise Whitehead
Description of Project:
This project sought to better understand the interface between work and family in terms of stress, job burn out, self- esteem, gender roles, parenting behaviors, and how each facet affects the others. The research in this area has been widely scattered in journals in psychology, family studies, business, sociology, health, and economics, and presented in diverse conferences (e.g., APA, SIOP, Academy of Management). It is difficult for experts in the field to keep up with everything they need to know, with the information dispersed.
The Handbook of Work-Family Integration, published in 2008, filled this gap by synthesizing theory, research, policy, and workplace practice/organizational policy issues in one place. The book was groundbreaking as a reference for researchers in the area, as a guide to practitioners and policy makers, and as a resource for teaching in both undergraduate and graduate courses.
Read more about this project: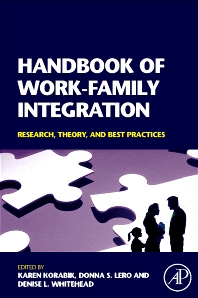 Published by Academic Press. Available in both print and e-book versions. For purchasing information visit the Elsevier online store.